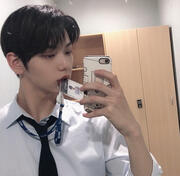 ---
NAME: Komako AGE: 23
SEX: M
PRNS: he/they
SEXUALITY: Pan
STATUS: NM- S
BASIC INFO !!
ya fav Japanese office worker born on June 26, 1998 . His full name is komako Roz Suzuya but he prefers being called koma. he lives alone accompanied with noone but his 6 cats.
LIKES !!
loves cats, his friends, <sunghwan3, kids, gaming, smoking, drinking, drawing, memes, reading, art, painting, anime,man/hwa/ga, spicy food, spams, letters, cuddling,vtubers.
DISLIKES !!
hates hot weathers, loud noises, homo/heterophobics, too sweet, pedos, de.grading people, sports.
fcs:
soobin & karina main pjm side
APPEARANCE !! a very polite and cute looking face. Dark brown orbs with pinkish lips and dark noir silky straight hair, he stands 5'7 (170 cm) usually wearing his office suit or baggy clothing. and he may seem tired most of the time.
DNI!! if ooc is -13 and 18+ unless you wanna be friends and you behave yourself well,hmu just for sex, racist, homophobic, heterophobic, make too much drama over the smallest things, and if you are an immature imbacle.